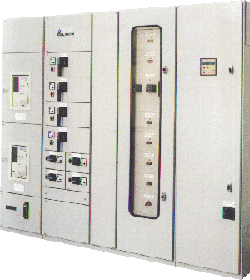 Main Distribution Switchboard including Sentinel ACB's, Fuse Switches,
MCCB's and Automatic Power Factor Correction Equipment
In the modern market, companies design power systems around the needs of their business; they can no longer accept switchboard designs that impose restrictions. The Ellison system has been designed with maximum flexibility, giving users the confidence that whatever the plant layout or building design, Ellison will be able to construct a scheme to suit.
Features
Modular cubicle design allows switchboards to be configured to customer requirements.
Switchboards can be modified or extended on site with minimal disruption.
Standardised construction can accommodate alternative makes of Air Circuit Breakers, Fuse Switches, Moulded Case Circuit Breakers, PFC Equipment and Power Transformers in Type Tested arrangements.
Full range of Busbar systems, including high current Busbars, ASTA certified to 80kA for 1 second, giving the flexibility to design distribution schemes for the most demanding requirements
Variety of standard cubicle dimensions and configurations allowing switchboards to be designed for substations where space is at a premium. These include front access, shallow depth cubicles and the ability to triple tier circuit breakers in rear access cubicles.
Standard cabling options allow for front, rear, top or bottom. The choice lies with the individual customer.