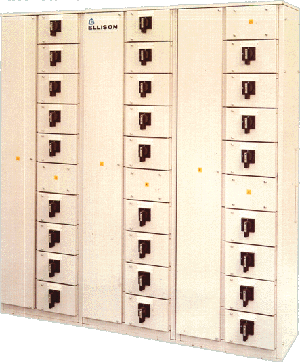 A typical 3 Panel Bantam board
End-users and contractors looking to save money on sub-distribution should consider the Ellison Bantam solution. Specifically designed for applications of 800A and below, Bantam offers a cost effective, flexible solution that reduces on-site installation time to a minimum. Bantam is a compact design which can be used where space is at a premium and can be wall or floor mounted. The unit can cater for cables entering from above or below, and is suitable for use as either free standing sub-distribution load centres or multi-way outlets from Lambar rising main systems.
Benefits of the Bantam System
Reduced installation time
Bantam requires no on site assembly, since every unit is delivered fully assembled from the works. The cabling facility, accessible from the front of the panel, has been particularly designed for ease of use: cable terminations are provided within the cabling chamber, rather than requiring cables direct to the device.

Flexibility
No two applications are the same and Bantam has been designed to accommodate this fact. The modular configuration can incorporate fuse switches, MCCB's and Fuse or MCB Distribution Boards. Unlike some competing systems, it is also possible to include metering, contactors, relays, timers etc. to meet specific customer requirements.

Ability to extend the system
Bantam is a system which is able to grow along with your plant's requirements. It is easy to add additional circuits to existing panels. Where future expansion is likely to be an important issue, panels can be supplied suitable for extension by simply including a busbar module within the configuration.

Safety
Bantam has been designed with safety in mind and the design is tested to 50kA. A dedicated cable chamber is provided and cable terminals are fitted with insulated shrouds achieving segregation to Form 4 Type 5.